Author Spotlight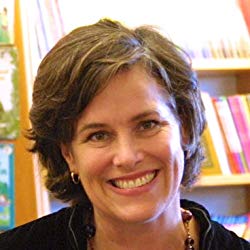 Thoughts about reading and writing
By LAURA MCGEE KVASNOSKY
One of the reasons I am a writer is because I love to read.
You know that moment when you start reading a new book? A door opens into the story and you step in and everything in the 'real' world – the socks on the floor, the dog's teeth that need brushing, the weeds in the garden – everything fades away. You may find yourself with that other Laura, settling down to bed in the loft of a Little House in the Big Woods, or howling with a young wolf on a faraway mountainside, or summoning an owl messenger at Hogwarts with a certain boy wizard.
Stories give us a chance to live forward and backward in time, and to inhabit other places be they real or imagined. We may put on the skin of a dragon or a bear or another person. In stories we can experience things that are way too scary or infuriating or heartbreaking to experience in real life. But if, subsequently, our own lives serve up fear, or anger or heartbreak, sometimes it is a story that helps us through.
But more than a story's knack to sweep us away from the humdrum of life or a story's ability to inform or comfort, is the amazing power of story to connect. We humans are story people. When we share our stories – in both reading and writing – we have a chance to connect, which leads naturally to empathy. I like how Barrack Obama put it: "The thing that brings people together to have the courage to take action on behalf of their lives is not just that they care about the same issue, it's that they have shared stories."
Writing is the way I make sense of my life. In my six-book early reader series about the Fox sisters, Zelda and Ivy, I have plumbed the highs and lows of growing up the middle of five kids. In my most recent picture book, Little Wolf's First Howling, a wolf pup finds joy and wildness in singing his own song.
I usually start out writing any particular story because it amuses me. Later, I find I am showing myself a way to look at my life experience, telling myself a truth.
Frankly, I don't know what I really think about something until I write about it.
Putting together these thoughts for the READ FOR MY SCHOOL program has been a chance to do just that, to think about reading as well as writing. Let's all look up from our books for a second and praise good books! Then it's back to the story. The socks can wait.
About The Author: LAURA MCGEE KVASNOSKY
Creating children's books is my dream job. The experiences I value most – nurturing a family, reading, writing, design, painting – all meet in this one enterprise. There are newspaper writers on both branches of my family tree. Perhaps we have a genetic urge to organize a story as a way to understand life. Being part of my family also affects what I choose to write about. I'm the middle of five kids. In many ways it was like growing up in a summer camp. My mother even put name tags in our underwear.
My husband and I have two children, now grown, who are also the source of many stories. I have a degree in journalism and have studied art and design at the university level. I began my work career at 8, sharpening pencils for my editor-father. Over the years I contributed in the advertising and editorial departments of his newspaper, too. When my children were small, I manufactured about 10,000 bakers clay Christmas ornaments in my kitchen. I started my own graphic design firm in 1980. When I turned 40, I decided to go for a lifelong dream of publishing a children's book. Now, 17 years later, I'm 15 books into that dream, with several more in the works.
I am a member of the Society of Children's Book Writers and Illustrators.
Watch award-winning children's author/illustrator, Laura McGee Kvasnosky, and her sister and co-illustrator, Kate Harvey McGee, as they share the adventures of Little Wolf, a wolf pup who teaches his dad about the joys of singing one's own song!
children's books; children's author; literacy; reading laura mcgee kvasnosky Little Wolf